ETERTAINMENT IN HOMESTEADHOMESTEAD BY THE LAKE
No matter is it summer or is it winter – you will find activities in Sartakampis homestead and neighborhoods.
Sports in homestead
There is beach volleyball court and football playground. As well you can organize relay races or other competitions because there is a lot of open green space in the homestead territory. Sartakapis also is offering table tennis, which you can enjoy even if weather is not the nicest.
Children activities
You will find wooden children playground and a sandbox. We always see that playground gives many happiness to our youngest guests.
Groups with many children often order inflatable trampolines to make impressive holidays for their little ones.
Boats and kayaks
We have 2 boats and 2 kayaks for you. On a request more kayaks can be organized for bigger groups.
Sartai is unique lake – it has longest shoreline in Lithuania, there are 7 islands in the lake. Lake is popular among holidaymakers as it has unique landscape and form. River Šventoji flows through it – so interesting and picturesque kayak or boat routes can be organized, visiting famous cognitive natural and cultural heritage objects.
Winter activities
Winter in Lithuania is always different but usually we have periods when ice on the weather is clear – this is perfect time to take ice skates and have some fun on the ice of Sartai lake. When ice is snow covered – cross country skiing, investigating impressive landscapes.
Hot air balloon
Spacious territory of Sartakampis can be used for hot air balloon takeoff place. Feel the amazing moments and see awesome views of unique Sartai regional park landscape. Balloons need to be ordered in advance.
Fishing
Homestead is ideal for your fishing adventures all year round. Sartai is perfect lake for boat fishing as well for ice fishing. Fishermen can use our boats or bring their own. It is possible to drive up to the shore of the lake and easily put the boat into the water. More information – Fishing in Sartakampis Homestead.
Relaxation in the homestead
For those who want just relax and make cozy a stay with friends, there is outdoor summerhouse where holidaymakers can chill, socialize and prepare most delicious barbeque.
Bathhouse, hottube and pond is ready for your water procedures. Guests enjoy having relaxing time in the sauna and hottube or just sitting in the bathhouse terrace and watching calmness of nature.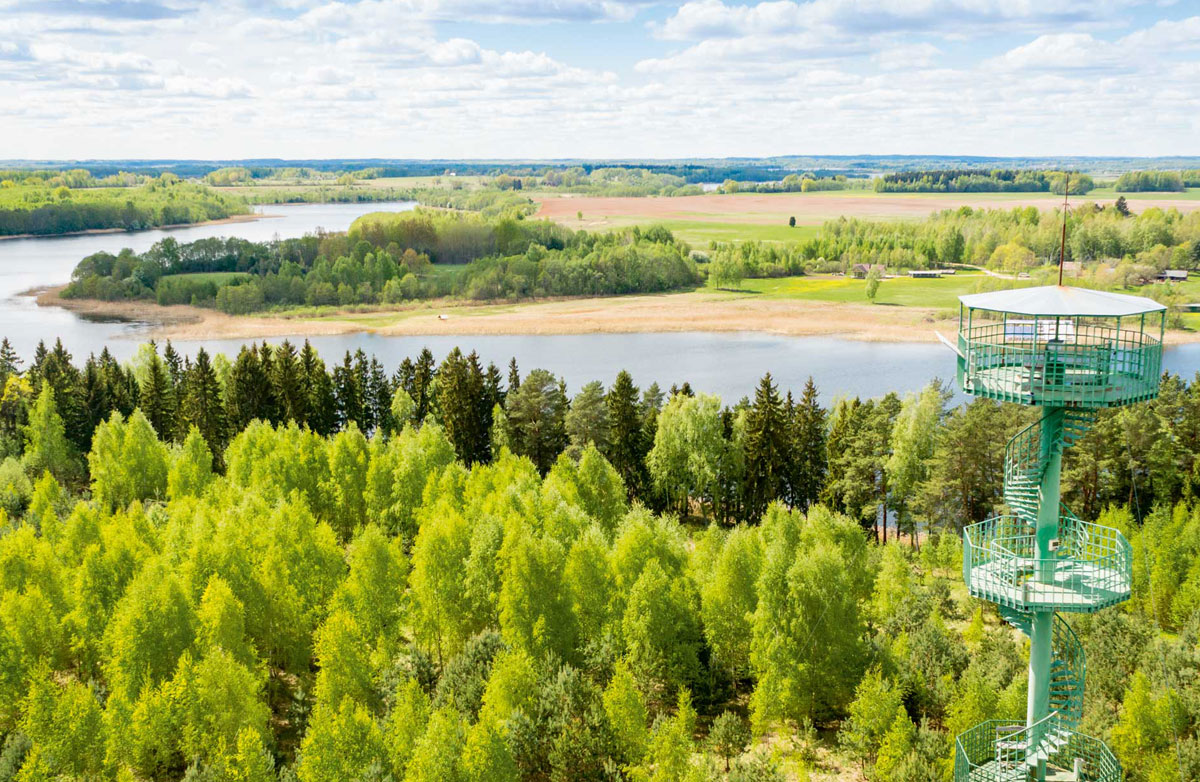 Neighborhood activities
There are many things to do and to see nearby.
You can make a bike trip, visiting local attraction places, such as Sartai lake observation tower or Bobriskis Orthodox Church-Old Believers' Cultural Heritage.
Just take some time to plan and you will enjoy your day visiting natural objects, mounds, manors and parks, churches, museums, historical monuments and other attraction places.